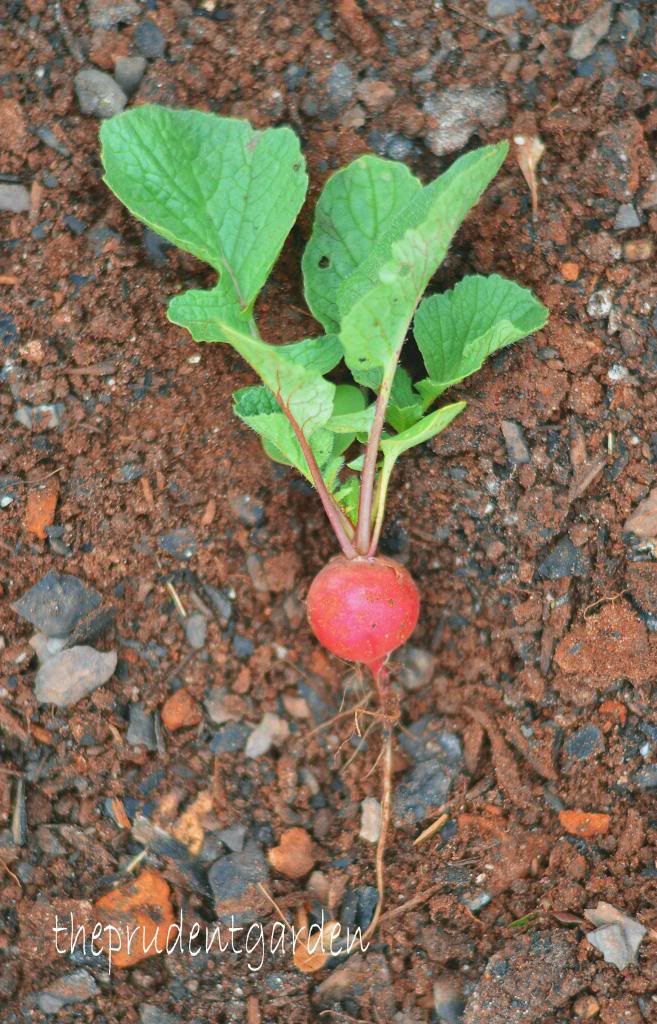 Why You Should Grow Radishes
I am the only one who eats radishes in my family. Well, Mark will eat them on a salad every now and then. But the only reason we grow them at all is for me. Why grow them instead of buying them? I mean, they are pretty cheap at the store.
These are my reasons:
The radish is an extremely easy vegetable to grow.
Home grown radishes have a kick to them. They are not bland at all. My radishes bite you back!
Kids like growing them. From germination to maturity is a mere 3-4 weeks. How's that for instant gratification! Even if you do not like to eat them, radishes are great way to get kids into gardening. My kids were excited to see the end result of something they help plant not even a month ago.
.
Radishes are cold-hardy and can produces several crops each season due to their ability to mature rapidly. Sow seeds about 4-6 weeks before average date of last frost or in the fall. They re
quire very little effort in order to produce. 
How to Grow Radishes:
Decide what type of radish you want to grow (mine are cherry belle).
Radishes should be planted in an area with full sun.
Radishes like loose, well-drained soil.
Sow seeds ½ inch to an inch deep and one inch apart in rows 12 inches apart.
Once seedlings emerge, thin to about 2-inch spacings.
Plant every two weeks while the weather is still cool for a continuous harvest of radishes.
Here's the best part…how I like to eat my radishes. Go ahead and put them in your salad if you want, but if you are a radish lover and want to try something new try this radish recipe!
Radishes with Bread and Butter
Okay, this is not a real recipe, but it's delicious!
Ingredients:
Radishes (yes, you many buy them at the store)
Butter
Crusty Bread
Salt
Thinly slice the radishes (a mandoline works wonders for this task)
Slice crusty bread to desire thickness
Lightly toast the bread
Slather the toasted bread with a generous amount of butter
Lay the radish slices on the the buttered bread
Sprinkle with salt
Enjoy!
This post may contain affiliate links, meaning we may earn a small commission off of any item purchased.