Easter is just around the corner and I have an easy craft that you can whip up in less than an hour. And the best part is that you can plop these darlings right into the garden after Easter!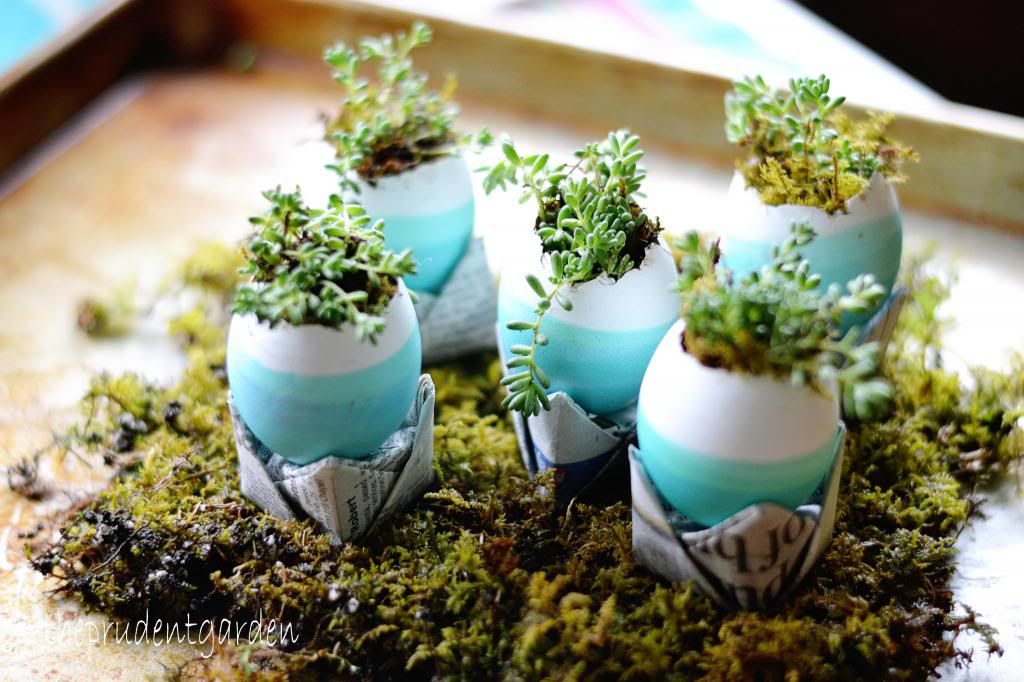 Easter Egg Garden Craft
You can use these little eggs as a centerpiece for your Easter dinner or on a mantle. They are super easy to make. With a little prep work a day or so before you start this craft, total time should be less than an hour.
Egg Shells
Moss (fresh or dried)
Sedum (any small plant-search around your yard!)
Potting Soil
The first step is to have clean, empty egg shells. I didn't do anything special to crack them. I just tapped toward the top of the egg so I could have a longer shell in order to plant in. You could use a pairing knife to start a crack to help you get it going.
Wash and dry the shells. You can decorate them if you want. I used food coloring to dye the bottoms of the egg shells.
I dug the moss from my back yard. You can use the dried variety that you can buy at craft or garden stores. You won't need a lot, so I suggest hunting in your yard (or your neighbor's–with permission of course!)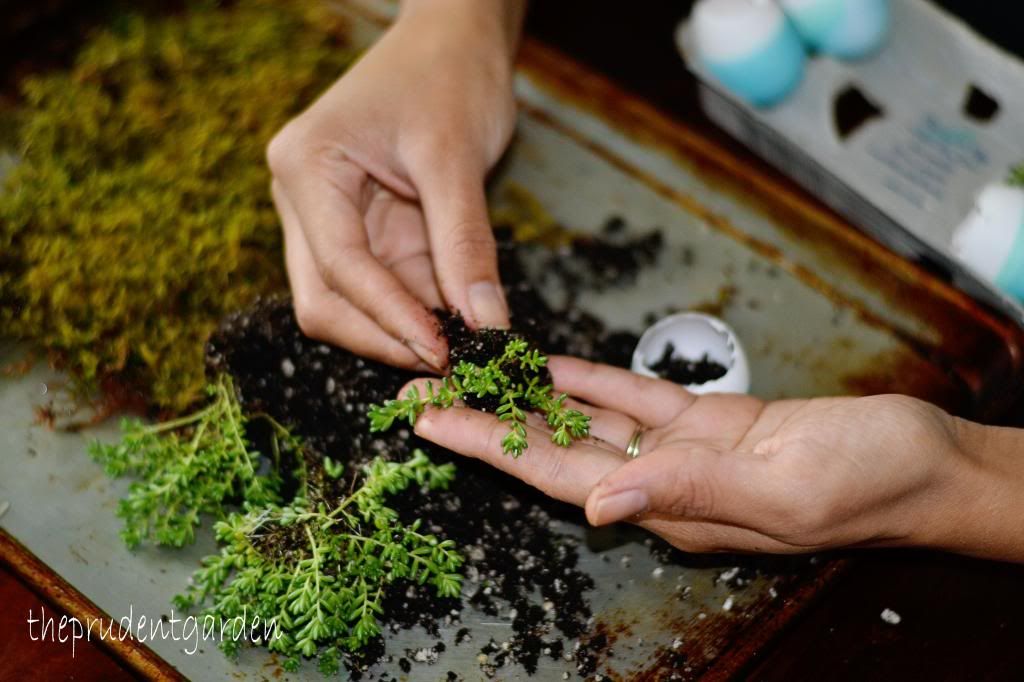 Gently break apart your plant to get small enough pieces to fit in your egg shells. Be very gentle! I filled the shell about half way with potting soil and then tucked in the sedum.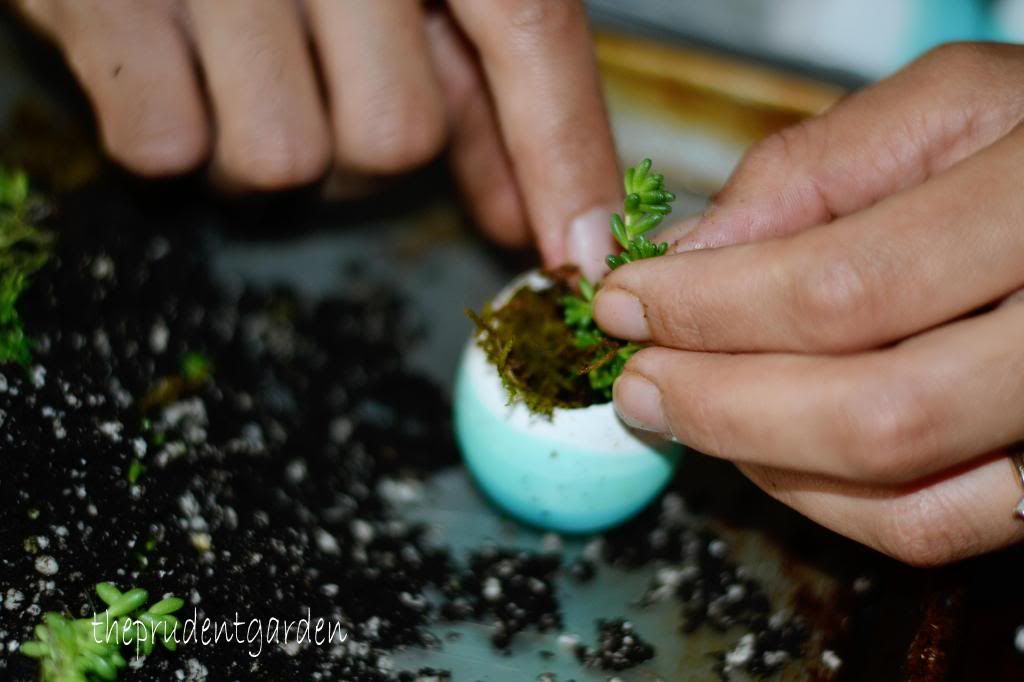 Take little pieces of moss and gently tuck around the sedum. The moss helps to hold the plant in. Repeat with the remaining egg shells.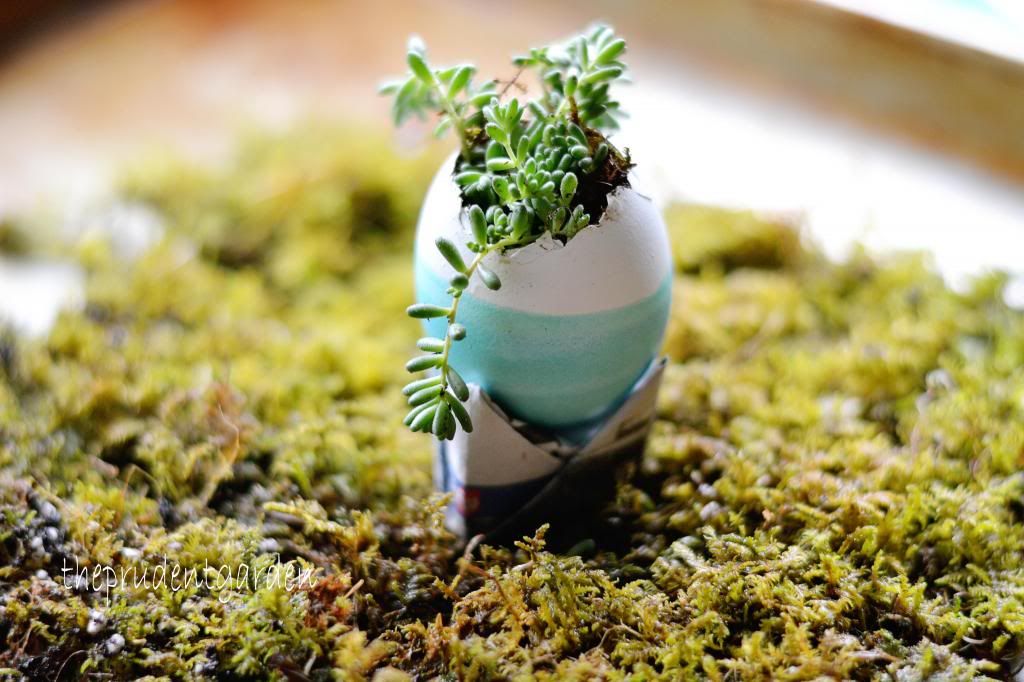 Display in little egg cups or on the bed of moss. Super simple, cheap, and it's reusable in your garden!
If you do not have eggs cups, make origami ones of your newspaper (or any paper)! Check out this tutorial on About.com.
This post may contain affiliate links, meaning we may earn a small commission off of any item purchased.